Bayley Harris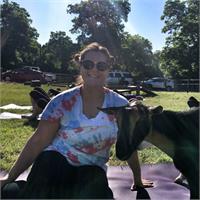 Bayley Harris instructs the following:
An athletic style practice, that moves slowly, with an emphasis on stability and modifications. 75 degrees




An athletic style yoga practice. Emphasis on strength, flexibility, stability, and breath. 90 degrees.




This class is accessible to a wide range of individuals. Class begins seated in a chair, with breath and movement. The class then moves into the standing poses, using the chair as needed for added stability. Floor work is done at the end of the class. For those that floor work is not suitable, substitutions are available seated in a chair. Yoga for Life is a great class to learn about the poses because the pace of the class is much slower. If there is special precaution that is needed, this class is a great choice. The temp of this class is about 75 degrees.