Donna Ponder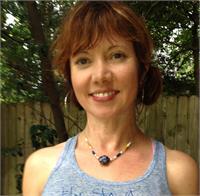 In 2002 took my first yoga class, and was hooked. The practice became an important life tool, that kept my body healthy and my mind clear. I felt so strongly about the benefits of this practice, had to share! Teaching began. A weekend workshop in 2005, then teacher training with Baron Baptiste in 2007 and 2009. Many other workshops followed with teachers such as, Seane Corn, Bryan Kest, Leslie Kaminoff, and Stacy Dockins. I opened Blue Sky Yoga in Monroe, May 2012, and opened a second studio in Ruston, December 2013. I teach power vinyasa flow, yin, and yoga for life (chair yoga). I live in Ruston, Louisiana with my 3 sons.
Donna Ponder instructs the following:
An athletic style yoga practice. Emphasis on strength, flexibility, stability, and breath. 90 degrees.




An athletic style practice, that moves slowly, with an emphasis on stability and modifications. 75 degrees




This class is accessible to a wide range of individuals. Class begins seated in a chair, with breath and movement. The class then moves into the standing poses, using the chair as needed for added stability. Floor work is done at the end of the class. For those that floor work is not suitable, substitutions are available seated in a chair. Yoga for Life is a great class to learn about the poses because the pace of the class is much slower. If there is special precaution that is needed, this class is a great choice. The temp of this class is about 75 degrees.